IDAutomation offers several barcode font tools via components, macros and source code. When using non self-checking barcode fonts, these tools are necessary for calculating checksums as the fonts themselves cannot perform checksum calculations. IDAutomation tools are free to use with the purchase of an IDAutomation barcode fonts package.
IDAutomation Font Encoders
NOTE: IDAutomation's Universal Barcode Font uses a different set of font tools.
Product Information

Download Link

Feature Level
4D 4th Dimension
1
ANSI C Code
3
C# Barcode Library
2
C++ Header File
6
Check Digit Calculator
6
Crystal Reports Barcode Font Formulas
Supplied with Purchase
5
Crystal Reports UFL - ActiveX and COM Based
6
Crystal Reports UFL - Native (recommended version)
6
DLL for Windows - ActiveX and COM Based
6
DLL for Windows - Native (recommended version)
6
Filemaker Barcode Plug-in for Windows and Macintosh
2
Intuit QuickBooks
1
Java Source Code
2
LotusScript for Notes, Domino and Approach
6
Macintosh Apple Works
1
Microsoft Reporting Services DLL for Barcode Fonts
5
Microsoft Office Macros & VBA for Excel, Access & Word
6
Microsoft Office Add-in for Word and Excel
6
Omnis 4GL Source Code
1
OpenOffice & StarOffice VB Macros
6
Oracle Reports PL/SQL Barcode Library with Source
3
PowerBuilder Source Code
1
Source Code (VB, Java, C, Foxpro, Oracle, PowerBuilder & Others)
M
StarOffice Add-In DLL
2
Visual Basic Source Code - Module1.bas
6
Visual Basic .vb module for Visual Studio .NET
4
Visual Basic 6 .bas Module
6
Visual FoxPro Source Code
4
Other - Use IDAutomation VB Code For Conversion to Other Languages
6
IDAutomation also offers image generators, label software and barcode components that can all create barcodes without fonts.
MICR and OCR Security Font Packages
IDAutomation MICR Fonts allow printing of numbers and codes to create bank checks or drafts from blank check stock.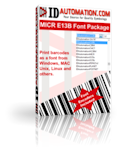 Self Checking Barcode Font Packages
The following barcodes are self-checking and do not require calculations for check digits because the checking technology is coded into each barcode character, making them very easy to use. If possible, non-programmers should consider using one of these barcode fonts for applications.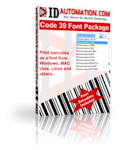 Other Barcode Font Advantage Packages
These fonts are not self-checking and therefore require check characters to be calculated. Most are supplied with examples for use in Microsoft Word, Excel, Access and Crystal Reports. IDAutomation also includes over 30 font tools for easy integration into several different applications.
Bundled Barcode Font Packages
These bundles include many IDAutomation fonts in one package for an affordable price.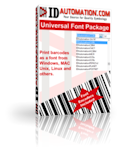 TrueType Font Package for Windows includes the most popular linear barcode fonts as well as MICR and OCR in TrueType form for Windows.
Premiere Barcode Font Package includes all linear barcode fonts as well as MICR and OCR in TrueType, OpenType, PostScript and PCL form.
Universal Barcode Font Advantage is designed to support most linear barcodes as a single font on multiple operating systems and locales. Supports Code 128, Code 39, Interleaved 2 of 5, Postnet, Planet, MSI and Codabar.
PDF417, Data Matrix and Other 2D Barcode Fonts
PDF417 and other two-dimensional barcodes such has Data Matrix allow encoding of more data in a smaller area. These barcodes usually require a barcode imager to read the data.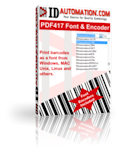 IDAutomation Technical Support
To learn more about barcode technology, read the Barcoding for Beginners Tutorial.
Video Tutorials
Barcode Scanners
IDAutomation offers several types of barcode scanners and readers as well as IDAutomation's own:
Free Barcode Stuff
©Copyright 2020 IDAutomation.com, All Rights Reserved. Legal Notices.

Barcode Fonts | Components | Scanners | Support | Contact Us





Over 70% of Fortune 100 companies use IDAutomation's products to automate their businesses.